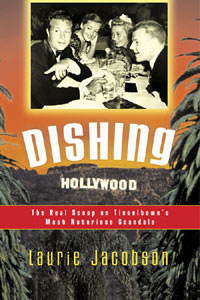 LANA TURNER
On a spring day in 1937, Judy Turner ditched typing class at Hollywood High to get a Coke across the street at the Top Halt Malt Shop. (Once and for all, it was not Schwab's Drugstore.) While quietly slurping her drink, a very important man asked her a very important question: "Sweetheart, how'd you like to be in the movies?" She thought for a moment, then shot back, "I'll have to ask my mother." Mama Turner gave the nod and a teenage star was born.
Lana Turner's talent in a sweater left guys gasping for air. She started in "Andy Hardy" kid stuff, but soon dazzled audiences in films like: "Ziegfeld Girl" and "Johnny Eager". As a top WWII pin-up girl, she inspired many an enlisted man to come back home to mama. After the war, MGM turned up the heat, transitioning her to full-on glamorous movie star in films like "The Postman Always Rings Twice" and "The Bad and the Beautiful". By the '50s, she was queen of MGM. Beauty, wealth, legions of adoring fans and an Oscar nomination for "Peyton Place" – Lana had it all – all but true love.
Lana's luck with men was rotten. She was a bad shopper. Fan magazines followed her string of broken romances with Artie Shaw, Sinatra, Howard Hughes, Tyrone Power, Fernando Lamas and more. By 1957, she'd been married four times; her lifetime total would reach seven. With husband #2, actor Stephen Crane, she had her only child, a daughter, Cheryl. As a mother, Lana was a better bride. It was her world -- everyone else just lived in it. She was too busy with her career to notice when husband #4, screen Tarzan, Lex Barker, began sexually abusing poor Cheryl. When she found out, she held a gun to the sleeping bastard's head, but couldn't pull the trigger. Instead, she sent the big ape packing and Cheryl to boarding school. With Cheryl gone, Mama quickly found another lover. Now she'd had trouble with men in the past, but she didn't know trouble till now.
In 1958, Lana picked a real doozie: small-time hood and big-time ladies man, Johnny Stompanato, a henchman for mobster Mickey Cohen. Good looking in a smarmy sort of way and apparently gifted in the sack, he made a good living off lonely, rich women like Lana. So what if he knocked her around a little? She thought it was exciting...to a point.
April 4th, Cheryl, 14, is home from school, lucky for Lana. Friends say she had been trying to dump the loser for awhile, but he was not going quietly. She gave expensive gifts, took him to "A" list affairs. She planned to take him to the Academy Awards, but this night she tells him he's not going there or anywhere with her. He slaps her, tells her if she doesn't take him, he'll ruin her face so she'll never work again. Cheryl hears everything outside the bedroom door. Terrified, she runs downstairs to grab a kitchen knife and charges back upstairs. As she bursts in the room., Stompanato turns toward her and somehow, the knife accidentally plunges into his stomach.
When a movie star is involved in a crime, the last person they want to see is a cop. For four decades, the first person was Jerry Geisler, attorney to the stars. He defended Chaplin, Flynn, Mitchum, Bugsy Seigel, even handled one of Marilyn Monroe's divorces. And now Lana. "Get Me Geisler" rushed to Bedford Drive. Some say Johnny was still alive and Geisler let him bleed out. The rumor that won't die is that Lana killed Johnny and Geisler convinced her to let Cheryl, a minor, take the fall. One thing's for sure: he made decisions as to how this thing was going down and Lana and Cheryl never, ever veered from their story. Geisler accompanied the duo to the Beverly Hills Police Department where Cheryl, confused and scared stiff, was fingerprinted and booked on suspicion of murder. The next day, the world heard the news. And it was very big news.
Lana and Johnny's lurid love affair exploded across the headlines. Not since Mary Astor's diary had a star's private life been so public. Overnight, the country's take on Turner took a nosedive. Nobody'd ever given much thought to her maternal side, least of all Lana. As a whole, the public felt "Life with Lana" was no place for a young girl. Cheryl was the real victim here. Many damned Lana, including top columnist Hedda Hopper. "My heart bleeds for Cheryl!" cried Hopper, calling Turner "a hedonist without subtlety...so preoccupied with her design for living...Cheryl isn't the juvenile delinquent; Lana is." Even the Hollywood Reporter -- founded by Billy Wilkerson, the man who had discovered the teenage Turner in that malt shop -- pointedly wrote that the "town's sympathy is with Steve Crane and his daughter."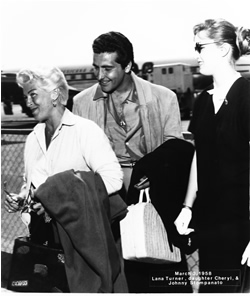 The press build-up was pure Hollywood: Stompanato's funeral; Turner's insistence that the hoodlum was an "unwelcome" presence in her life; his brother's announcement that Johnny was stabbed while lying down. The coup de Gras came two days before the inquest when "Lanita's" love letters to her Johnny, filled with burning desires, were plastered across front pages worldwide -- a little payback from Mickey Cohen, Stompanato's pal.
Geisler arranged for Cheryl to be excused from the coroner's inquest. That made Lana the star of the show. And what a show. Everything that was important to Lana was on the line: her life, her career, her public image and oh yeah, her daughter. The morning of the inquest, as hundreds of her fans gathered downtown, Lana's make-up and hair people were giving her the works at her Beverly Hills home. She entered that courtroom "camera ready" for the greatest performance of her life. ABC and CBS jointly filmed the proceedings for television while broadcasting them live on radio. In the hushed, sweltering Los Angeles courtroom, Lana Turner breathlessly explained how her teenage daughter came to murder her gangster boyfriend. It was the stuff dreams were made of.
Only the clicking of cameras could be heard during Turner's 62-minute anguished testimony. Weeping and wringing her hands, she described how Cheryl rushed into the bedroom, knife in hand, after over-hearing Stompanato threaten her.
"Everything happened so fast...I never saw the knife...I thought she had hit him in the stomach with her fist." Sobbing, she told of breathing air "into his semi-open lips...my mouth against his." She choked, "He was dying." Oh, brother.
The hearing lasted three hours. The jury returned a verdict in less than twenty minutes: justifiable homicide. Mickey Cohen griped to the press, "It's the first time in my life I've ever seen a dead man convicted of his own murder. So far as that jury was concerned, Johnny just walked too close to that knife."
So go figure. After all the negative publicity, Lana's career was barely affected. As the '50s neared a close and America settled cheerily into the suburbs, the public created the happy ending they needed to see. Cheryl went to live with her grandmother. The world had one less cheap hood in it. And Lana Turner would carry on, sadder, but wiser. At her next movie, fans cheered her image, shouting, "We're on your side, Lana!" Turner continued to star in films of the '60s and '70s -- two of which, "Imitation of Life" and "Madame X", drew shamelessly on her real life troubles. P.S. The public loved them.
Even though Lana probably never boiled water without help, she offered up her favorite recipe:


SHRIMP SCAMPI
Serves 4
16 medium to large shrimp
2 cloves crushed garlic
¼ stick of butter or margarine
¼ cup olive oil

2 Tbs parsley flakes or fresh
1 tbs. Lemon juice
1 tsp. salt
¼ tsp. Pepper
Split shrimp, remove legs, veins and shell. Leave tails on. Heat butter and oil, add garlic, parsley, lemon juice, salt and pepper. Put sauce on flesh side of shrimp and marinate for one hour. Place shrimp in baking pan flesh side up and broil about
6 inches from heat for six minutes. Serve hot.