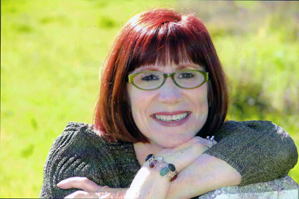 Laurie Jacobson is a celebrated Hollywood author. Her fourth book, Timmy's in the Well – The Jon Provost Story (Cumberland House, 2nd printing) celebrates the 50th anniversary of Timmy from the original Lassie TV series. The book is a memoir she co-wrote with Provost, her husband.

Prior to that, Laurie published the saucy and inventive Dishing Hollywood (Cumberland, 2nd printing), spilling the beans on 43 Tinseltown scandals – with a pertinent recipe connected to each one. Laurie's second book, Hollywood Haunted (Angel City Press, 7th printing) just won't die! A favorite with her fans, HH covers more than 100 years of ghostly goings-on in filmland.

A reformed stand-up comic, Laurie worked out in Harvey Lembeck's Comedy Improv Workshop for years with classmates Robin Williams, John Larroquette and John Ritter. While performing with improv groups, Laurie immersed herself in the history of those who came before her. The stories she uncovered during this period became the basis for her debut, archetype book, Hollywood Heartbreak (Simon & Schuster, 3 printings), a 75-year history of Hollywood told through the lives and deaths of 31 people. Following its publication, Laurie emerged as a leading Hollywood historian.

Since then she has written and produced documentaries, television series and specials, including: 20th Anniversary of the Mary Tyler Moore Show, The Museum of Television and Radio's Salute to Funny Women of Television, The Warner Bros. Studio Rededication Party, The Suzanne Somers Show, Photoplay and Hollywood Chronicles. She worked with Jack Haley, Jr. for nine years as head of development.

Collaborations with other writers include Suzanne Somers on her book Wednesday's Children, interviews with celebrities raised in abusive environments, as well as contributions to tomes like Hollywood Handbook and The Hollywood Archive.

As a reigning expert on Tinseltown's ghosts, scandals and mysteries, Laurie appears regularly on radio and television, including: E!, CNN, Mike Wallace's 20th Century, Entertainment Tonight, Art Bell, A&E, History Channel, Discovery Channel, TVland and AMC. In 2007, Laurie made her film debut in a role written for her in Not Fade Away, starring Oscar™-nominee Shirley Knight. Recently, she appeared in Sunset Strip, an award-winning and star-studded documentary on the fabled roadway which had its premiere at Grauman's Chinese Theater and will soon be seen on television.

Laurie has had the honor and privilege to work with many of Hollywood's classic stars. She is also at the reins of Living Legends Ltd., representing more than 100 nostalgic celebrities for appearances.

Laurie Jacobson and Jon Provost make their home in Northern California.